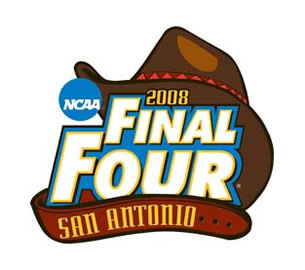 So I have had this idea for a while now, an now I am putting it into action.  Every now and then, expect a custom made playlist made by us.  So for our first playlist, I thought it would be a good idea to have our first playlist would coincide with this years March Madness (Final Four) 2008. 
Before we list our playlist for March Madness 08', we will make our predictions as of so far for who will be advancing to the Final Four, and who will be in the championship game.
Our pick is that Davidson gets the upset in this one (just like in all their past games).  They have been unstoppable, and no team has had an answer for Curry as of yet.  We don't see Kansas having a way of stopping Curry, and we also think the Davidson defense will make it hard for Kansas to score offensively.
We got UNC on this one.  There is just no way that Louisville will be able to shut down such a powerful UNC offense.  While Louisville has been playing well, and has show that they could upset in the Elite Eight, we doubt they will.  Our winner in this game is UNC over Louisville.
Not that we always enjoy picking the under dog to win, we don't see Memphis as a strong enough team (at least not strong enough to beat Texas that is).  Texas will have a home court advantage in this game, and they will more than likely out power, hustle, and run Memphis. Texas is big, and much more physical than Memphis, and our prediction that is that Texas will end up with the win against Memphis.
Well, this one won't be an upset situation, UCLA will end up beating Xavier.  Be sure to check that game out as I am sure it is going to be a close fought battle.  Xavier does have a very good team, but I don't see them upsetting the power house that is UCLA.
UNC wins this one, but not in a blowout.  Curry will still be tough to contain, and all of UNC's players would have to play at their finest to take down this hot Davidson team.  Were predicting UNC beats Davidson, and moves onto the championship game.
UCLA should win this one, barring any huge mistakes from the UCLA roster.  If UCLA runs on all cylinders, I would find it hard to see Texas being as dominant as they could be against the one seeded Memphis.  The outcome will be a UCLA win, and a chance for UCLA to win it all.
UNC wins it in a close game.  UCLA is a very young team, and still has a lot of proving to do. In order for UCLA to win it all, they would have to be able to shut down the UNC offense, and I don't see how that could happen.  Our prediction is that UNC will win it all in a close game.
March Madness Track List 2008:
1. Good Life (Feat. T-Pain) - Kanye West
2. Hypnotized (Feat. Akon) - Plies
3. Low (Feat. T-Pain) - Flo Rida
4. Don't Stop The Music - Rihanna
5. Superstar - Lupe Fiasco
6. Independent (Feat. Lil' Phat & Boosie) - Webbie
7. Love In This Club (Feat. Young Jeezy) - Usher
8. Cyclone - Baby Bash
9. Flashing Lights (Feat. Dwele) - Kanye West
10. Im'ma Shine - YoungBloodZ
11. Shawty Get Loose (Feat. Chris Brown & T-Pain) - Lil' Mama
12. Wadsyaname - Nelly
13. Kiss Kiss (Feat. T-Pain) - Chris Brown
14. Roc Boys - Jay-Z
15. I Still Kill (Feat. Akon) - 50 Cent
16. The People - Common
17. Us Placers - CRS
Check out those songs, and let us know what you think of our March Madness Playlist!
Print this post