You all know what I think about Lil' Wayne, and how I see his musical career as just being a popular musician and that he really does not have any skill.  Well, after giving the album a listen a few times, I have decided to change my mind.  The guy does do a great a job.  For all the years that I have ragged on Wayne, and his only being good due to Kanye West, I would like to apologize.  
Tha Carter III
 is proof that Lil' Wayne has extreme talent, far more than I truly understood.  While I may not be a fan of all of his songs, the album overall is pretty solid.  I can truly appreciate it, and while that is the case, he did sell
"A Milli" copies of his third LP in
Tha Carter
 Trilogy.
So you may ask me why I liked the album so much!?  Well the answer is simple... Wayne did a fantastic job spreading out his really hot tracks throughout the album.  This allowed me to stay interested throughout the entire CD.  Tracks like, "Dr. Carter," "Mr. Carter," and hit single, "Lollipop (Feat. Static Major)" were all placed perfectly on the album.  I also liked the choices he made for artists featured on the album.  I was impressed by the quality of the songs on the album.  Not to mention, I also liked the fact that he was not cocky, in the sense that not every track was solely about him, and his ability to spit tracks better than anyone else.  Also, I can finally agree, and support Lil' Wayne now that he has publicly said on an album a, "Thank You Mr. West."  This being said, I will now be doing more Lil' Wayne updates, and more Lil' Wayne reviews and such.  No more bashing from me.  You may however, see once in a while a criticism from me, but to be honest, there was not much to criticize on
Tha Carter III
.  Other than the fact that his singles were not as hot as they maybe should have been, the overall album was pretty tight.
I would also like to take a look at the bonus disk.  The tracks on there were pretty solid.  I really enjoyed giving it a listen, and he flat our killed the songs featured on the bonus disc.  While this album was not as good as his past (some would say), I thought he did a fantastic job with the album.  I guess the third time is the charm, he sold a million plus records, changed my opinion on his musical works, and he flat out did something that is truly impossible to do now a days.  The guy is a straight up superstar.  Anyway, lets just get on with the rest of the review.  This is a massive review, so I am going to do a breakdown of the singles he released, then I will put up the track listing, and like an old school TGLR's album review, I will rate each song, including the bonus disc, etc.  So we still got a ways to go before I finish with this album.
The first single for
Tha Carter III
 was "Lollipop (Feat. Static Major)".  The track was not my favorite, it took a while for it to grow on me, like most Lil' Wayne singles, but after a while, I began to like it.  There were many other tracks on the album that I enjoyed, but it was still a solid single.  While many did not like the song, I thought he did do a great job with the song.  It may have gotten old fast, mainly due to the large air play the track received on the radio, internet, and T.V. (i.e. MTV, VH1, etc.).
Another thing that the single did was get fans into what
Tha Carter III
 will have on it.  If there were more tracks like this one on it, then people would want to buy it.  In my opinion, this single single handedly allowed Wayne to sell "A Millie" copies of his most recent release,
Tha Carter III
.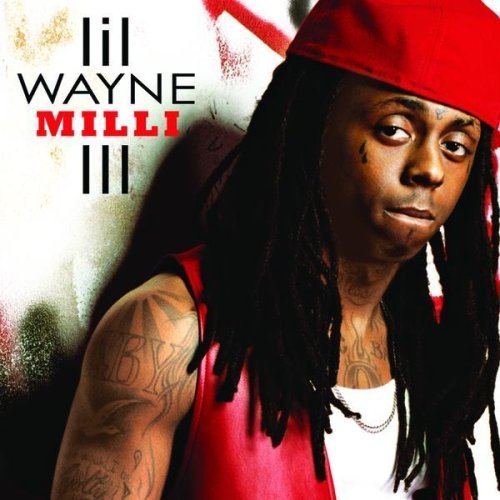 This track got old fast, but will still be a classic Lil' Wayne song.  The beat he dropped on this one was straight fire, and there is no one out there who can argue with it.  Not only was the beast straight fire, but tons of artists jumped all over this track and made a freestyle of it.  Below will be the list of musicians who decided to freestyle "A Millie."  On top of that, the track got major airplay like Lollipop did, so the track did not stay hot for too long.  Overall though, the track was solid in the beginning.  It was a strong second single for the album, and it definitely helped push sales to a higher level for when
Tha Carter III
 finally dropped.  The majority of the songs on the album really don't match the style in which Wayne took on this track, but regardless, the track was straight fire.
Lil' Wayne and T-Pain just straight up killed this track.  I have never seen any two artists have the ability to just do a track like this, and straight up kill it.  The track is probably the best single of the three, and it shows the complete dominance that Lil' Wayne and T-Pain have in today's music industry.  This track is probably one of my favorite tracks on the album, and it is just overall a great track.  While it did not get as much air-play like the first two singles did, it is still a hot track, and that is why it's still a good track.  This is probably my favorite one on the album, and I like the shout out to Rihanna with the "Ella-Ella-Aye Aye" in there.  Overall a club banger for sure, and the single was extremely good.  I am glad this track made the final cut.
So there you have it, the three singles that made
Tha Carter III
what it was and is today!  I am now going to take a look at the track listing for the album, so keep on reading if you want to see the ratings for the tracks on the album.
"3 Peat" (8.8 out of 10)

"Mr. Carter (Ft. Jay-Z)" (9.3 out of 10)
"A Milli" (9.2 out of 10)
"Got Money (Ft. T-Pain)" (9.7 out of 10)
"Comfortable (Ft. Babyface)" (8.6 out of 10)
"Dr. Carter" (9 out of 10)
"Phone Home" (8.5 out of 10)
"Tie My Hands (Ft. Robin Thicke)" (8.3 out of 10)
"Mrs. Officer (Ft. Bobby Valentino & Kidd Kidd [uncredited])" (8.7 out of 10)
"Let the Beat Build" (8.8 out of 10)
"Shoot Me Down (Ft. D. Smith)" (8.6 out of 10)
"Lollipop (Ft. Static Major)" (9 out of 10)
"La La (Ft. Brisco & Busta Rhymes)" (9 out of 10)
"Playing With Fire (Ft. Betty Wright)" (8.8 out of 10)
"You Ain't Got Nuthin' (Ft. Fabolous & Juelz Santana)" (8.9 out of 10)
"DontGetIt" (8.7 out of 10)
"Lollipop (Remix) (Ft. Static Major & Kanye West)" (8.9 out of 10)
"Prostitute 2" (8 out of 10)
"Action (Target Bonus Track)" (8.6 out of 10)

"Whip It (Target Bonus Track)" (8.5 out of 10)
Deluxe Edition Tracks (Bonus CD):
"Gossip" (8.6 out of 10)
"Kush" (8.5 out of 10)
"Love Me or Hate Me" (8.3 out of 10)
"Talkin' About It" (8.6 out of 10)
Print this post