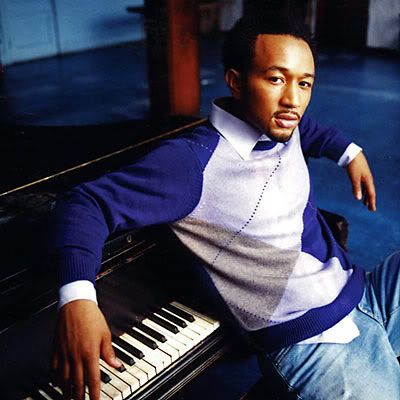 I don't know if any of you actually know how much I love John Legend's work, so for those who don't I am now telling you. I truly think that the music John Legend puts out is the best of both the new music (Rap/Hip-Hop) and R&B/Soul. He mixes and matches these four genres on every track and to tell you the truth, he makes it sound good. He is coming out with an album soon and the title "Evolver" really tells you everything about his political views and outlook on the world. He recently released the single, "If You're Out There" and it was put out on Obama's site as a free download. I will get in depth on the two singles he has released for his up and coming third album entitled, "Evolver."
The first single off of John's up and coming album was "Green Light (Feat. Andre 3000)". The track had a fast beat to it, and Andre 3000 complemented the track with a nice touch. As far as opening singles go for upcoming albums, this one was one of the better ones for Legend. The track is upbeat, up tempo, fast paced, and truly a delight to listen to! If you enjoyed the single as much as I did, you can check out the remixed version with Rick Ross.
Rating: 5 out of 5 stars
The second single off "Evolver" is called, "If You're Out There". The single was equally if not better than "Green Light (Feat. Andre 3000)" and it had a sort of deep meaning and message to it. He really encouraged people to go out and vote and make decisions for themselves. He also talked about bringing change to the world we live in and that we must actively do things to make the world a better place! My rating for the single can be found below!
Rating: 5 out of 5 stars
When we hear more about the album, we will be sure to post it up on the blog!

Print this post