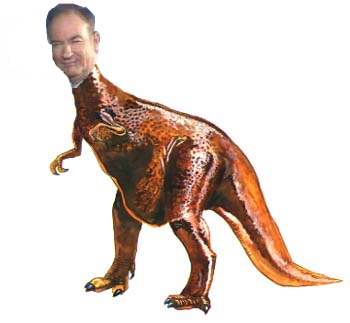 I am telling ya, Bill O'Reilly might arguably be the stupidest person on TV!!! The guy is a complete moron, he makes these ludicrous debates that make no sense what so ever.  I am not afraid of the guy, but for some reason, every person that goes on his show (and is a democrat or someone with a liberal view) gets all scared because he starts yelling.  Well listen here Billy, this blogger is not afraid of you!  Your just a big coward who has to hide behind his constant yelling and loud noises just to make a point that really makes no sense.  You are up there in the ranks of
Soulja Boy
and
50 Cent
, as one of the stupidest people in the hollywood entertainment industry.  I mean come on, you pick some of the stupidest things to debate about, and in this post, I am about to rip you a new one!  Oh and by the way, I am sorry that you feel like sites such as
Daily Kos
, and other blogs on the internet hurt your feelings and cause you to weep yourself to sleep at night.  Go ahead and read the
Daily Kos
, and let me know how Anti-American it sounds... Seems like Mr. O'Reilly is just over reacting yet again!
Recently, Billy Boy went on TV and started calling out the 8-Mile superstar (and one of the most famous rappers in the musical industry), Eminem.  Now if you want to pick on Soulja Boy, or even 50 Cent, I am down with that, and would support ya, but there is no way that you could ever go up against the great Eminem.  Anyway, back to the subject at hand... O'Reilly thought that women's right groups should be attacking Eminem due to the lyrics and music video for his most recent song, "We Made You".  Well, since Billy Boy knows so much about the history and laws of America, then he would know that if you are a celebrity or in the public eye, you can be criticized and are subject to being talked about.  
Sara Palin
is just that Mr. O'Reilly.  She is an extremist who was VP selection of the GOP, and became fairly popular because she was an idiot.  The lyrics and attacks Em has on the track are completely fair, seeing as she is a public figure who is in the public (or should I say "was", seeing as she was the downfall to the
McCain
campaign).  I mean, I guess we can't really blame her for being an extremist who is a complete moron, but heck, she has to be accountable for something.  I mean, I find it hard to believe that you would stand up for someone who ran your presidential candidates campaign into the
$h!t3r
.
I also love how he just mentions
Sara Palin
, not the other women featured in the video.  I guess because he doesn't have a crush on them...
Sara Palin
must be his one and only!  
Jessica Simpson
,
Kim Kardashian
, Amy Winehouse, and many others must not have as much value and I guess women's rights groups should not come to their aid, only
Sara Palin
.  I mean, what Em said was not neccisarily nice, but it is a song Bill, get over it!  You know how many other musicians sing and rap lyrics that are ten times more crude then what Em raps about in his new song, "We Made You"?  I mean if your going to attack Em, then you might as well criticize all of rap and hip-hop while your at it.
If I talk about this topic any longer, it would be a waste of energy, thinking, and time... If you want to e-mail me Mr. O'Reilly, then feel free to @
TGLR007@gmail.com
, I would love to debate you and do an interview with you on the current status of music and the problems with music.  I may only be a teen, but I sure do know a lot about politics, music, and society, some stuff that you could for sure use a lesson on!  Anyway, not really going to waste anymore of my time here, to sum up the post, Bill O'Reilly is an idiot!
Click On The Linked Words To See Some Funny Videos/Pictures!

Bill O'Reilly on Eminem Song: "We Made You"

THE DIRTIEST SONG EVER WRITTEN AND DESERVES TO BE BANNED FROM EVER BEING PLAYED:
Print this post