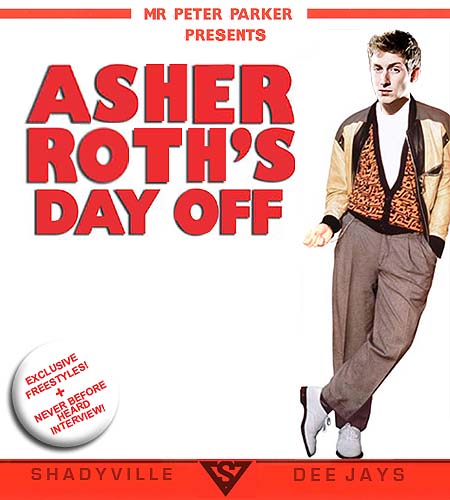 I really am not going to go too in-depth on this mixtape review.  I am mainly just posting up a link to the tape, and maybe a few videos and sound bytes to go along with it!  This is pretty much a nice collection of the majority of the leaked material that has been given to the public thus far.  You got your "I Love College" in there, along with the whole Go-Kart song and much much more!  You should check it out if you are an Asher Roth fan, and if you are just starting to get to know this kid, then I advise you to come check out the mixtape and here him spit his game.  The guy is going to blow up on April 20th, so be sure to support Asher and cop his album which will hit stores and the iTunes music store on a national holiday!!!  Anyway, check the track listing below, give the track "Be By Myself" a listen, and stay tuned for more Asher Roth news coming in the very near future!
Asher Roth - "Be By Myself (Feat. Cee-Lo)" [
YouTube
] 
Asher Roth - "Perfectionist (Feat. Beanie Segal & Rock City)" [
zShare - CLEAN
]
Asher Roth's Day Off [Mixtape] 

Track Listing:
1. Intro
2. Lark On My Go Kart
3. I Love College (Remix) (Feat. Jim Jones & Chamillionaire) (Prod. By J. Cardim)
4. Throw Some Water On Em
5. Funkmaster Flex Freestyle
6. A Milli (Freestyle)
7. Change Gone Come (Feat. B.O.B. & Charles Hamilton)
8. Runaway Love (Feat. Mary J. Blige)
9. DJ Symtex Freestyle 1
10. DJ Symtex Freestyle 2
11. Tim Westwood Freestyle
12. The Reading (Remix) (Prod. by Nottz & J. Bookinz)
13. The Day I Got Crowned
14. Silly Boy (Prod. by Don Cannon)
15. Family Man (Unreleased from '06)
16. Mr. Peter Parker/Asher Roth Interview & Freestyle [Bonus Track]
Asleep in the Bread Aisle
Hits Stores April 20th, 2009
Check Back Here For More Asher Roth News As The Release Date Comes Closer!!!
Print this post